July 6, 2021
Finding the Right Running Shoe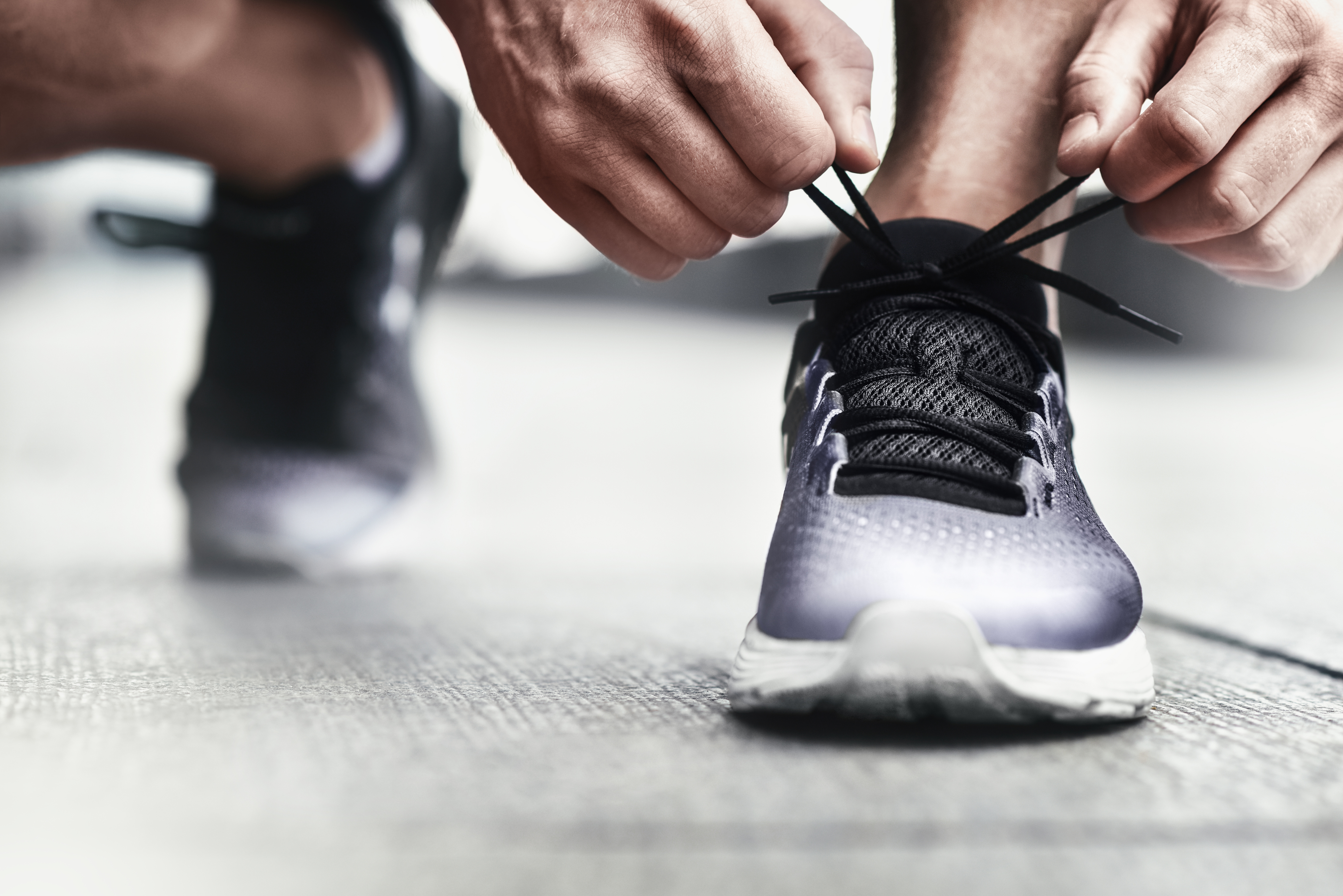 We get questions from patients frequently about the right running shoe for them. Like any athlete, runners need the proper equipment to keep them safe and injury-free.

The right running shoe should provide comfort, flexibility and support, and contribute to a quick recovery afterward. Our advice for patients is to purchase shoes at a running store that specializes in fitting runners with the correct footwear, which often involves analyzing your walking and jogging form on a treadmill. However, understanding the basics of running shoe anatomy and what you should look for will help you participate in finding the right shoe for you.

1. Fit and Feel
A running shoe is made up of three basic components: the upper, the midsole, and the outsole. The upper is typically made of mesh and some sort of overlay to increase durability and reinforcement of the toe box. It should feel snug and breathable, and should not rub excessively during your stride. The toe area should allow enough room for your toes to wiggle while standing. The midsole is typically made of some type of foam and can also contain various firmer support elements. It should provide proper arch support, cushion, and rebound. The outsole is typically made of rubber or some durable composite and should provide adequate traction for your running surface.

2. Pronation and Support
The right amount of cushion and pronation control relieves stress on your knees, hips and ankles. Pronation is how your ankle and foot move from the beginning to the end of each stride. Pronation is how the foot and ankle naturally absorb shock. While pronation is normal and necessary to distribute ground reaction forces, over or under pronation can cause problems.

Your arch height most correlates to your pronation type. A flat arch or "overpronator" tends to roll heavily to the inside edge of the foot. A motion control shoe that provides maximum support to restrict foot roll is recommended for these runners. A low arch or mild to moderate pronator may tend to roll slightly to the inside of the foot. These runners do best in stability shoes that enhance arch support to lessen foot roll through the stride. A medium or neutral arch tends to roll to the center of the foot. The neutral pronator with a medium arch needs a neutral running shoe. A high arch or "underpronator" tends to roll along the outside edge of the foot. The underpronator with a high, rigid arch needs a cushioned shoe that provides shock absorption and allows as much foot roll as naturally occurs during the stride.

3. Heel Drop and Footstrike
A key measurement of any running shoe is the heel-to-toe differential, or heel drop. This can range from 0 to 16 mm. The higher the number, the more thickness and cushion in the heel. Your footstrike determines the amount of heel cushion you need. Most runners strike heel first and require a conventional running shoe to effectively cushion the impact. An average heel drop of 9 - 12 mm is recommended for beginner runners and overpronators. Maximum heel cushioning of 13 - 16 mm is recommended for heel-first strikers and under pronators.

In recent years, many runners have adopted the principles of Pose or Chi Running to tailor their stride to strike at the midfoot or forefoot. Both Pose Running and Chi Running stress a forward lean from the waist to place the feet directly under your center of gravity (hips) when landing to make you a more economical runner and minimize the negative effects of gravity. Such a stride requires a shoe with little to no heel cushion. A Zero-drop or flat shoe (0 - 3 mm), or a Minimalist shoe (4 - 8 mm) with a hint of padding in the heel is recommended for midfoot or forefoot strikers.

4. Running Surface and Activity
Your activity and running surface affect what type of shoe you need. When road running on urban surfaces, you want a running shoe that is light and flexible. When trail running, choose a running shoe that offers a denser sole with extra stability and durability to protect from uneven terrain.
Don't let nagging pain or injury hold you back. At the Office of Orthopaedic Medicine & Surgery, we are committed to delivering the best in comprehensive medical care in Washington, DC.

Call us today at (202) 835-2222

or request an appointment online.