September 7, 2021
Graston Technique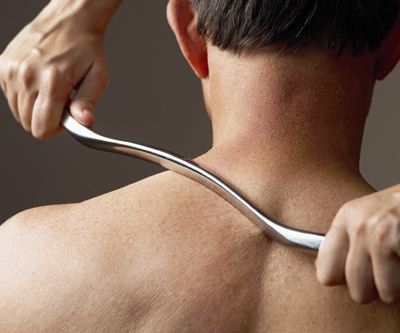 The Graston Technique is a form of instrument-assisted soft tissue mobilization that utilizes specially designed tools for diagnosing and treating areas of scar tissue and soft tissue restrictions. Scar tissue is fibrotic tissue that replaces damaged tissue after injury as part of the healing process. However, scar tissue tends to be weaker than the original tissue, and can form adhesions to other tissues which can adversely impact the function of the healthy soft tissue around it.
The stainless steel instruments used range in size and shape in order to fit various parts of the body. The contour of the instruments (convex or concave) vary depending on general use for larger areas or to isolate focal spots or specific scar tissue. The surface edges of the instruments also vary for different depths of penetration into the soft tissue. These differences in shape, size, contour and edges allow for improved feel for fibrotic changes within the tissue, providing better diagnostic and treatment capabilities for the clinician.
In combination with exercises and modalities, Graston Technique can be used to help with both acute and chronic conditions including tendonitis and tendinosis, sprains, strains, contusions, and nerve entrapments (ie carpal tunnel). For patients, the use of Graston Technique can facilitate the healing process, thereby speeding up recovery and reducing overall treatment time.
Don't let nagging pain or injury hold you back. At the Office of Orthopaedic Medicine & Surgery, we are committed to delivering the best in comprehensive medical care in Washington, DC.

Call us today at (202) 835-2222

or request an appointment online.